BLOG: What my Confirmation Saint has taught me
22nd May 2018
My Confirmation and my Patron Saint
I was confirmed a whole load of time ago. I was in Yr 6 (this is when you are confirmed in the Archdiocese of Birmingham). I remember very little of our Preparation sessions - but my mum has still saved my work book. One thing that does stick in my mind was the session when we talked about Patron Saints. I had no idea really who to choose. In the end, I had flicked through a Saints books and fell upon St Rita of Cascia. In truth I didn't choose her because of her story, I simply chose her because I liked the name and she was the Patron Saint of Impossible Cases which I assumed would be a good back up for me at some point. I didn't look much into her story. I approached the whole task without really considering the gravity of what was asked of me, but then, I was still young and the idea of committing to something for my life Time was too big of a concept to grasp.
Well, I know now that I was divinely guided towards St Rita. I didn't know it at the time but gosh, now, looking back, God's hand was very much involved.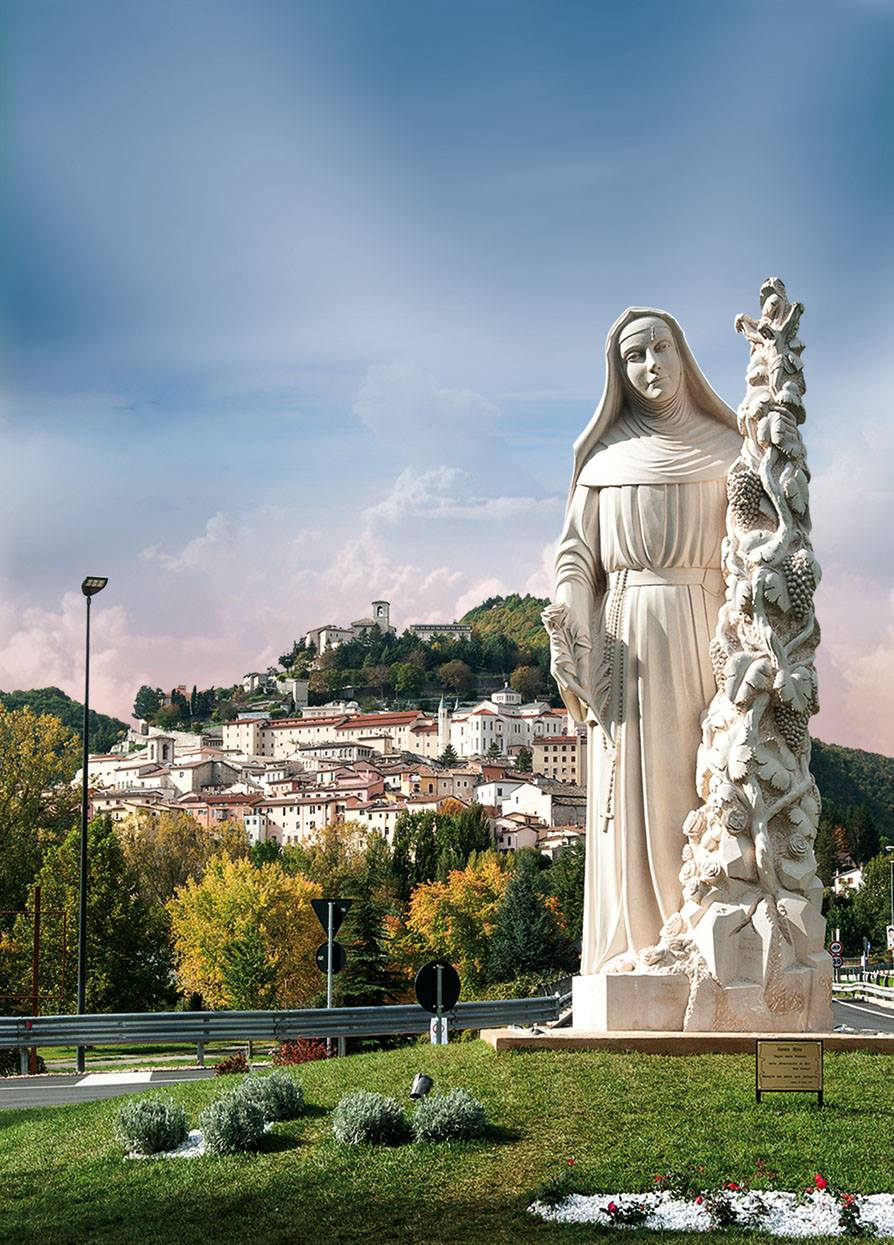 The Saints
Saints are people who are in heaven, there are many who have been recognised by the Church, and millions more who are in heaven praying for us to God. How do you get to heaven? How do you become a Saint? Well that's all about holiness. That is living your life for God. As we all know, sin is our biggest barrier to holiness. The Saints have all been there. They all sinned too. They are human like us. What sets them apart, and what sets us apart, is their desire to live a holy life for God.
The Life of St Rita (very briefly)
St Rita's life was a mixed bag. Here's a few highlights of her story.
She always wanted to be a nun out her parents wanted her to marry - with her husband she had two sons

Her husband was said to have not treated her well

Her husband was involved in criminal 'mafia' like activity and was murdered.

Her sons wanted revenge. St Rita prayed that her sons wouldn't disobey God's command to not kill. They caught a deadly illness before they could take their revenge and went to God.

As a widow St Rita wanted to now join the local convent. But because of her husband's dealings with criminal activity and St Rita being a widow the convent refused her.

St Rita was convinced that God wanted her to be a nun, so she persisted.

Finally as a nun she became known for her holiness.

She remained a nun for 40 years until her death

There were miraculous things that happened to St Rita, such as the mark of Christ's wounds (stigmata) and other miracles.

When she died people came from all around the region to visit her grave.
Her full story is wonderful to read! I encourage you to google St Rita.
She is a Patron for women, for fertility, for unhappy marriages, for mothers, for those getting married...the list goes on. The Covent where she was an Augustine Nun is very popular as a Pilgrimage site, and there are about 40 Nuns who live there currently.
Something amazing that I discovered about the Covent now is this...many brides go to the Convent to pray for their marriages. Many, once married, donate their wedding dresses to the Convent. Those Wedding dresses are then given to brides to be who might not be able to afford a new wedding dress. Read the whole story here:-
St Rita and me
This humble lady, St Rita, has become one of the biggest influences in my life. She is a source of comfort for me, particularly as I myself prepare for marriage. Her dedication of service to God is a reminder for me to seek Him first, above all other things. I've been praying a Novena (nine days of prayer) to St Rita, asking for her intercession. I've prayed particularly for discernment for some big decisions, for James (my fiancé) and myself as we lead up to our wedding and my niece Harriet. She is said to be the Patron Saint of Impossible Cases, so I know that when I get overly worried about things she is the perfect person to pray to. 
St Rita pray for us
Catherine
SYMT